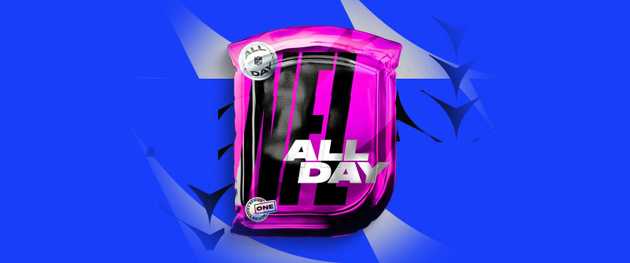 Introduction
The NFL is the latest to join the major sports leagues in producing NFT digital trading cards for their athletes. In this article, I walk through what NFL ALL DAY is and my experience with buying and selling this new digital trading card. Spoiler alert, this wasn't my favorite NFT drop experience.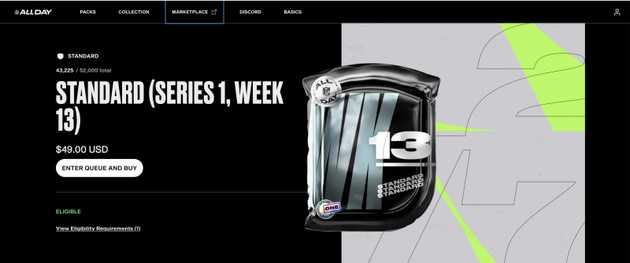 NFL ALL DAY is a collaboration between the NFL and Dapper Labs (creators of NBA Top Shot) to create digital video collectibles featuring the biggest plays of the season. Much like its NBA predecessor, NFL ALL DAY has "pack drops," with each pack containing either 3 or 4 "Moments," officially licensed NFL digital video collectible NFTs.
Moments on NFL ALL DAY have rarity tiers. Every highlight is part of a tier, which tells you how many of each Moment are available. The main tiers are Common (9,999+), Rare (499-2,000), and Legendary (100 or less)

I have followed Dapper Labs since their CryptoKittie days and participated in their NBA Top Shot drops, even though I'm not a huge basketball fan. I was genuinely excited for Dapper Labs to be the producer of NFL's digital trading card and got on their Discord to follow the action. NFL ALL DAY already formed a large community within the NFL ALL DAY Discord, and many had already signed up for a Closed Beta. Unfortunately, I was not selected for the first Closed Beta Drop on December 9, 2021. I would not get an invite and miss out on the subsequent three waves.
Release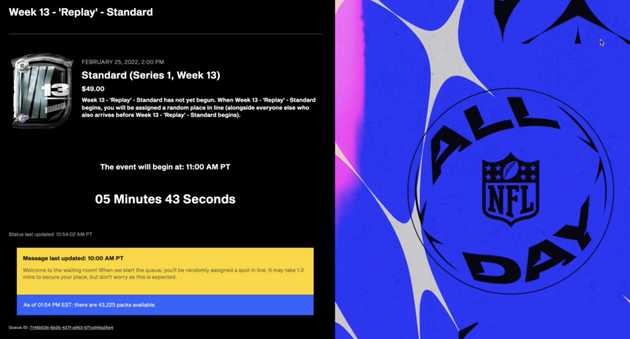 February 25, 2022, I finally got into the waiting room for their latest drop. Those invited could join the queue an hour before the drop. I speculate that the queueing was to reduce the load of users hitting the site and possibly the processing load of minting NFTs. NFL ALL DAY uses a system by Queue-It  to manage its virtual line. Before the drop, there is a countdown clock. After the drop goes live, you are placed into a spot in line and given an estimation of wait time. My wait time was over an hour, but the queue-it function allowed me to put in my email and get a notification when my spot in line was ready for purchase.
Purchasing Cards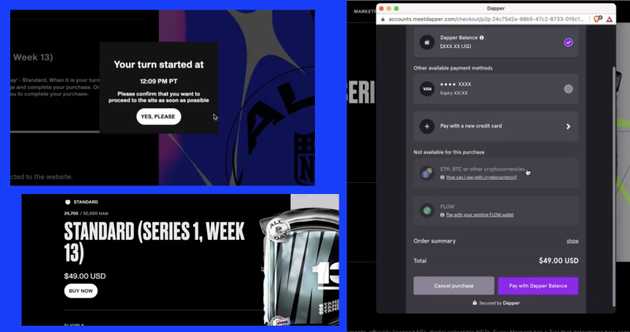 When it is your turn, you have 20 minutes to buy your pack or lose your spot. When you return to the home screen, the primary button that once read "ENTER QUEUE AND BUY" now reads "BUY NOW." Dapper makes buying an NFT easy for folks not familiar with crypto. You can purchase with a credit card like any other online store. In addition, you can buy with any money remaining in your Dapper balance if you have used the service before. For more crypto-savvy users, Dapper Labs accepts Bitcoin, Ethereum, Bitcoin Cash, and the stable coins DAI and USDC.
The earlier drops are called Standard Drops and cost $49 for one pack containing three moments. The later drops are called Premium Drops and cost $249 for one pack containing four moments, guaranteeing that one of those Moments will be from the Rare or Legendary tier.
Opening your packs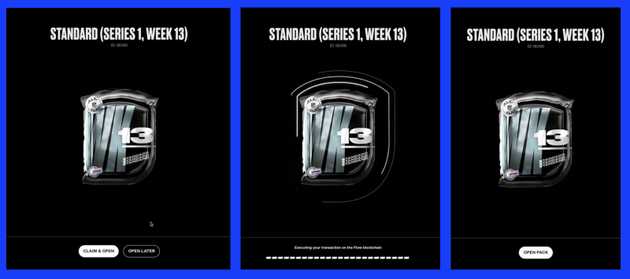 Opening packs have been pretty consistent throughout all the digital trading card experiences. What's great about the physical experience with trading cards is the unwrapping. There's suspense in not knowing what's in the pack and the reveal moment. The big reveal has been extended to the digital experience. Dapper Lab's NBA Top Shot was the first to do this, and I think the user experience team deserves a lot of credit for having this insight. I believe it adds to the fun and intrigue of buying these collectibles.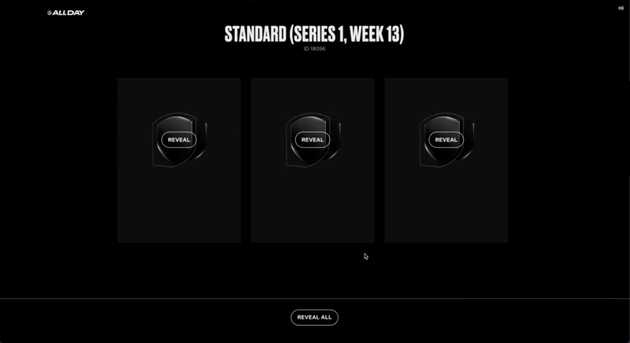 The Digital Card
The card designs are slick. Instead of using the cube shape like NBA Top Shot, they use the NFL shield to encase the card. I don't love the shield design as much as I like the original cube, but I understand the design direction. The rigging of the animation is the same as NBA Top Shot, keeping that consistent Dapper Labs feel.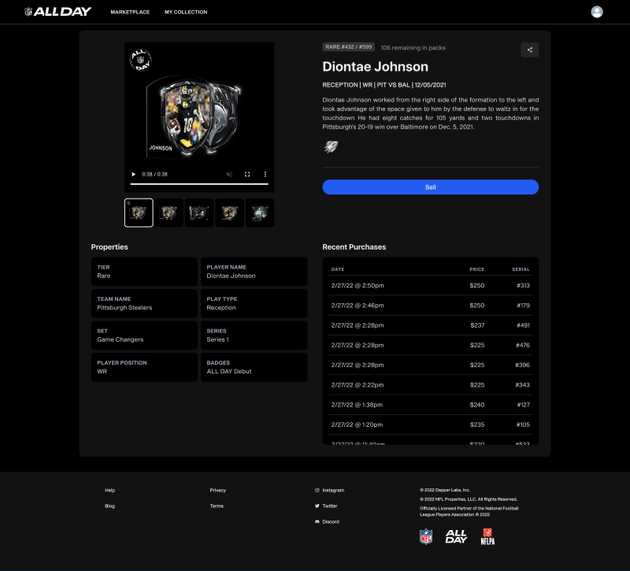 Each Moment has its own page similar to the NBA Top Shot Moment's Detail page. However, NFL ALL DAY has much less detail removing in-depth player details, statistics, and game statistics. Along with the digital "trading card," there's a description of the play and Moment properties. Moment properties consist of the Tier, Play Type, and Series. There are also Set types and Badges.
I don't fully understand the significance of Set type even after reading the explanation on their website. The Common Core tier has Set types of "He Called the Game," "Move the Chains," and "Make the Stop." The Rare tier has Set types of "Afterburners," "In the Trenches," "Ball Hawk," "Game Changers," "Showtime," "Launch Codes," and "2-Minute Drill". While the Legendary tier has Set types of "Rookie Revelation," "What a Drive," and "Hoodwinked." At the moment, they seem like an excessive property, perhaps to add another dimension that increases rarity. This analysis is based on reading about their explanation of series size and rarity. However, that's just my guess, and perhaps they plan to use it for something in future iterations.
Badges seem slightly more interesting. They are a quick visual to indicate if the Moment has a certain significance. For example, there are badges for a player's first ALL DAY release, rookie season, or Super Bowl champion season.
Lastly, the page offers a "Recent Purchases" area. Viewing "Recent Purchases" allows the owner to see the current going rate for this NFT. You can compare the price against serial numbers so that you don't have to guess what your NFT is worth if you want to put it up for sale.
Collection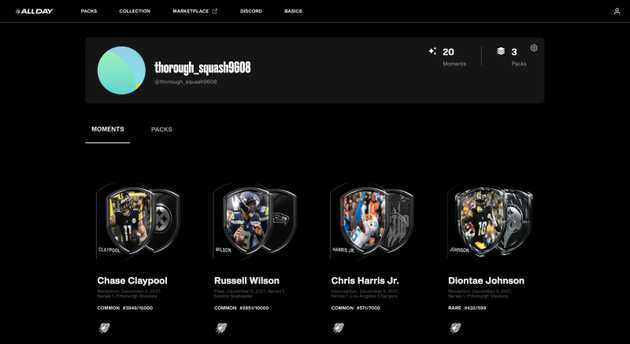 Like other formats, there is a "Collection" area to view the NFTs you own. It shows an overview of the player, the type of play, the date of the play being displayed, tier, and serial number: the lower the number, the more valuable the NFT. As mentioned previously, there is also a badge. You can put your Moment on the All Day Marketplace. One odd glitch to watch out for is that you won't see any "sell" buttons when you go directly into your Collection. It would be best to go to the Marketplace first and select "Collection." This is not inherently obvious, and I've seen questions about it on Discord.
The Marketplace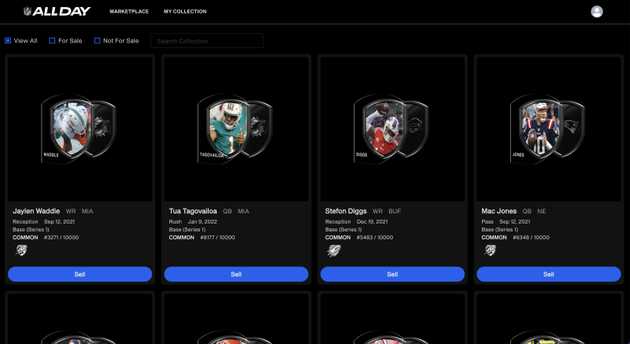 Once in the Marketplace and in "My Collection," you will see the sell button. I'm not real certain why the format of the Moment display is different. This format cuts off the player's name in a few edge cases.

Other than those two minor complaints, the Marketplace experience is smooth, and it's straightforward to buy and sell Moments.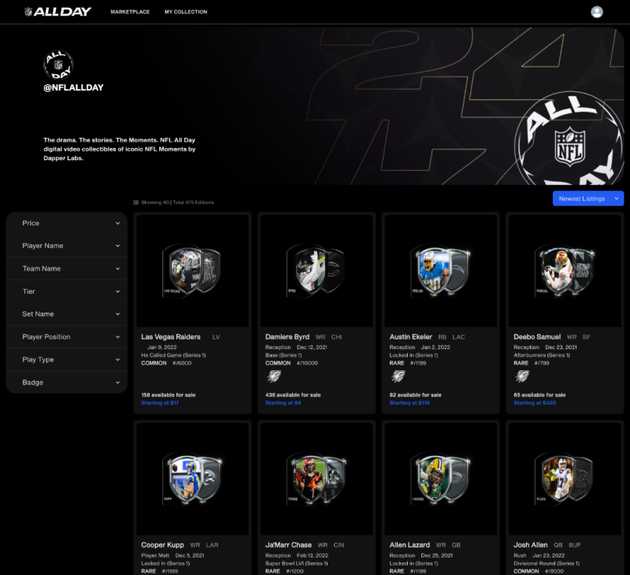 Analysis
As much as I love Dapper Labs' work, there are some bugs and issues with the experience that have gotten purchasers of the Moments hot in the Discord chat. Keep in mind this is still a Beta, and Dapper Labs is a very talented company. However, the pricing is much higher than the entry-level to NBA Top Shot. NBA Top Shot is $9 per pack, while NFL ALL DAY is $49 for the "Standard" Drop and $249 for the "Premium." In my opinion, this is a higher barrier to entry and one that devalues immediately, so you have to love football. And not just a team or a player. All of it. In my experience with three drops, I found Premium packs to be not worth it. I've pulled better cards in my Standard Drop than my Premium Drop. In one week, I participated in the Standard and Premium drops and pulled 2 of the same cards in both drops. I've also had a Premium Pack have 2 of the same Common cards. This would never happen with physical cards. I've seen some poor customer complain on Discord with a screenshot of him getting 3 of the same Common card in a Premium Drop, and it was a kicker. Unless you get a Legendary or a Rare of someone like Patrick Mahomes, your cards are worthless on the Marketplace. The average is around $5 per Moment on the Marketplace. So unless you hit a nice pull, you are -$34 per pack. For some collectors, that's not a big deal. They like the experience. I don't see this as scalable at $49, much less $249.
$49 is equivalent to what Candy Digital sells their MLB packs of NFTs. However, with Candy, it's about the individual player. There will only be one digital card (in 3 tiers) made of that player for the season with Candy. One player in the NFL can have many moments in a season, creating multiple NFL ALL DAY cards for that player. Therefore, it waters the value down. I've had this same criticism with NBA Top Shot in a previous article. I think there's a place for Moments, but I see more value in Team and Player-specific collectibles. I especially find this valuable if it is consistently kept to one per season.
I see Moments as more of a give-away at a game. I think in the near future, NFTs will become the digital ticket into a game. The same NFT can pay for concessions and memorabilia. It's also connected to your digital wallet, and the team can drop a fan a digital Moment immediately after it happens. Instead of bobbleheads sponsored by WB Mason, they can sponsor digital collectibles. And these team collectibles can prove fandom and reward fans for their ownership, specifically those with multiple NFTs. For example, if I owned every type of Steelers digital card, I'm eligible for a signed football from TJ Watt or the owner's box seats. The team or player can then drop tokens into a fan's digital wallet to collect their rewards. Eventually, the digital and physical world will blend. Team Zero has been exploring this concept, and I wrote about this from the lens of music and concerts in the Unlocks section of Team Zero's NFTix idea. I'm interested in seeing how NFTs and digital trading cards progress in year 2.