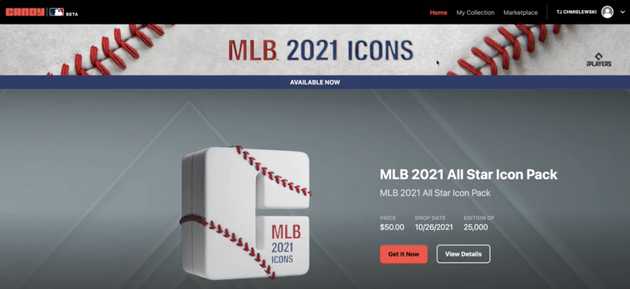 Sports trading cards have gone digital! In this article I will share how I collected NFTs for Major League Baseball and sold them for a 1000% profit. Candy Digital released its digital trading cards for Major League Baseball.As the website states "Packs of 2021 Icons—a set of collectable NFTs that showcases the best players in the league as well as the stars of tomorrow—are available only to Candy account holders who get in on a series of limited edition drops in October and November of 2021. Each pack contains three Icons. Our first series of packs contains 3 Icons from the 2021 All-Stars Series. Our second series of packs contains 3 Icons from the 2021 Uncut Diamonds Series (which features a top prospect from every team)".
Release
As mentioned in previous articles, I heard about Candy Digital through a podcast and participated in their early NCAA football drops. As a kid, I collected physical baseball cards made by Topps, Bowman, Donruss, and Fleer. I loved that experience, but there is only so much a company can do with a 2"x3" cardboard card. I'm intrigued to see what a digital universe looks like for a fan and collector. Candy has signed a long-term contract with Major League Baseball and had been rumored to be ready to drop its first set of digital baseball cards. I joined Candy's Discord channel to follow their next drops and was lucky enough to get in just before their All Star Icon Packs and Uncut Diamonds were going live. I setup an account on the Candy website as advised by the Admins on the Discord channel. The public pack drop for the All Star Icon Pack was at 12pm EST October 26. The Uncut Diamonds (or rookie cards) were to be released the following day at 3pm EST. I also learned that they had started another drop a week before for "Plays of the Day". This collection is a lot like what TopShots is for the NBA.
Purchasing Cards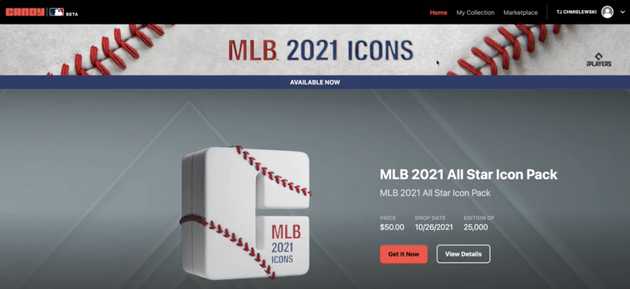 Candy Digital used their own platform for purchasing this time after having previous drops on Bitski. The purchasing for the All Star Icon Packs was very easy. There was no option to buy with crypto (although I see that on the Candy roadmap), so I used my credit card to purchase. I actually think this makes it a lot easier for the average consumer to come in and take part in this sale. I saw some complaints on Twitter about long queues to get in and purchase, but I had no such problem and felt this went smoother than the NCAA football drop. I bought 3 packs in under 5 minutes.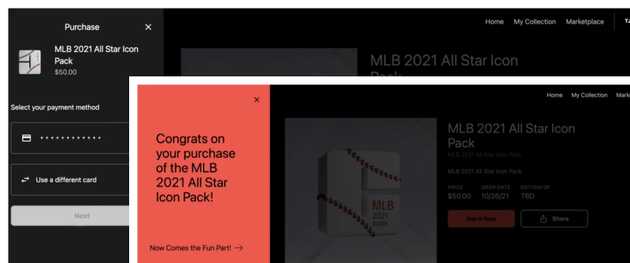 Opening Your Packs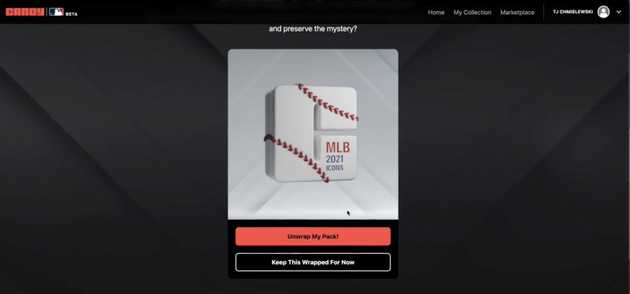 One of the great things about the physical card collecting experience is getting to open the pack and see what you got. TopShots got this right when they packaged up their NBA digital cards and Candy followed suit. You also have the option to leave it wrapped. This may be interesting for collectors that hold onto these packs and resell them to another collector at a future date. I personally had to unwrap mine.
Once unwrapped, you can still have the pleasure of going through each one-by-one. Each card or icon is part of a tier based on availability of ownership. There are 5 tiers. Core cards are the most common with 409 available for each player. Uncommon allows 120 owners. Rare only 60. Epic only 30. Legendary has only one sole owner making this extremely valuable.
I was excited to see an Epic (pictured below as a purple gem) in my pack and opened it last.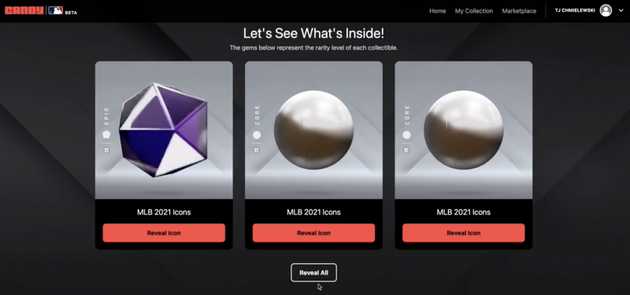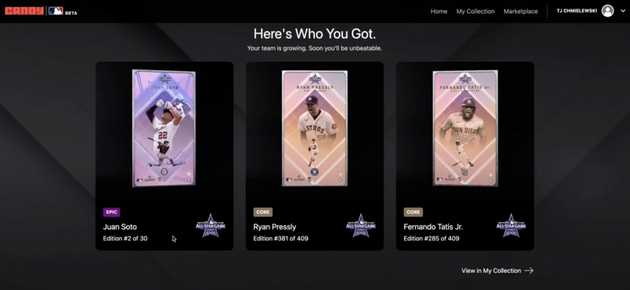 I received some great cards with an Epic Juan Soto being my biggest haul. The All Star Icon Pack includes only the players that were voted onto the 2021 All Star Game rosters by the fans. I won't get into how wonky and old-school the All Star voting process is and just simply say there are high profile players missing in the packs. Max Scherzer, Justin Turner, and Chris Bassitt are definitely players that deserved roster spots and I would have loved to see them in the collection. Due to 2021 being the first full season after Covid, there were significant injuries early on that kept players off the field and subsequently off of the All Star lineup. Byron Buxton and Starling Marte are two names that come to mind. Also, as a biased Phillies fan, I would have loved to have Jean Segura, Rhys Hoskins, and MVP-candidate Bryce Harper in my collection. Maybe they will expand it in the 2022 season.
My Collection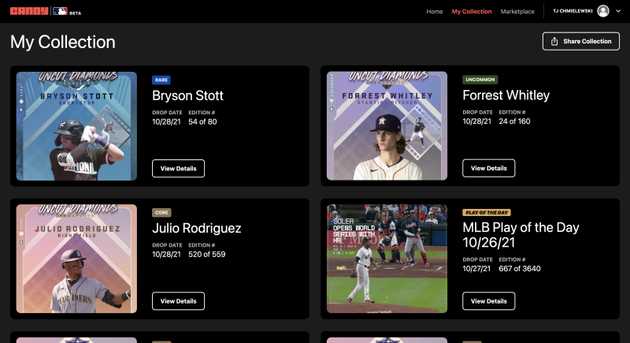 Candy provides a space to view your personal collection. I bought some Uncut Diamonds (rookie cards) the following day during that drop. I also picked up a MLB Play of the Day just to round out my collection.
The individual cards are beautifully made and resemble more of what I thought a digital "card" would look like using the technology available. As mentioned, there are card tiers that determine rarity. Each level has a little more degree of detail. Uncommons and up have more player video footage that progresses as you move to Rare, Epic, and Legendary. Legendary has the ultimate experience.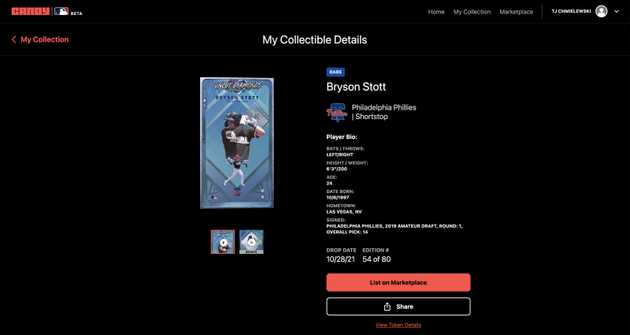 One thing to note is that these are unlike the first few NFT drops by Candy which were done on Bitski and directly linked to the Ethereum blockchain. Candy is now using our friends at Palm.io to build out its marketplace. Palm is a Layer 2 scaling solution also known as an Ethereum sidechain. This is great because it allows the normal fan that is not used to cryptocurrencies to easily participate without having to understand gas costs (which are incredibly high), it's faster, more efficient, and a clean marketplace for collectors to safely trade, buy, and sell verified Candy NFTs. With all the buzz about how terrible NFTs are for the environment, this will be a nice shift to see an NFT launch with nearly a 0% carbon footprint.
For now, Candy is acting as a custodial wallet for users Candy NFTs. This puts a collector a bit in a holding pattern until the Candy Marketplace is functional. That would still make it a walled-garden, but Candy has it on their road map to provide an option to transfer NFTs to the Ethereum mainnet and buy and sell on other popular marketplaces.
The Marketplace
Updating the article since Candy launched its marketplace.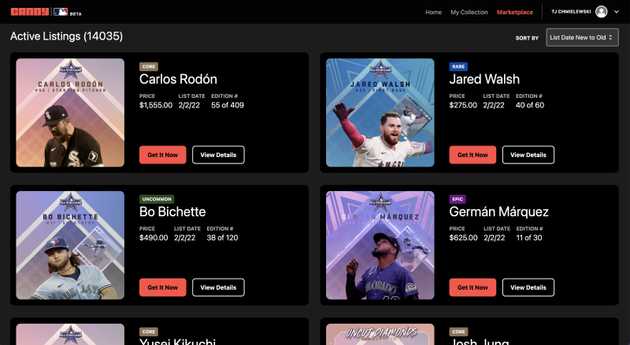 As of January 15, 2022, Candy has launched their NFT marketplace.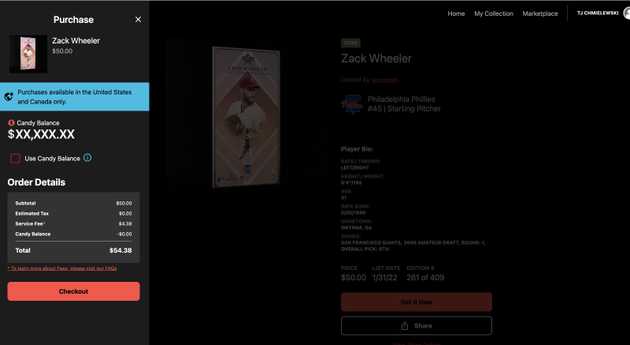 Candy makes it easy to find and acquire those players you didn't get in your packs. It's a similar checkout process as the prior, but now you can also use your Candy balance to make purchases. More on what a Candy balance is in a minute.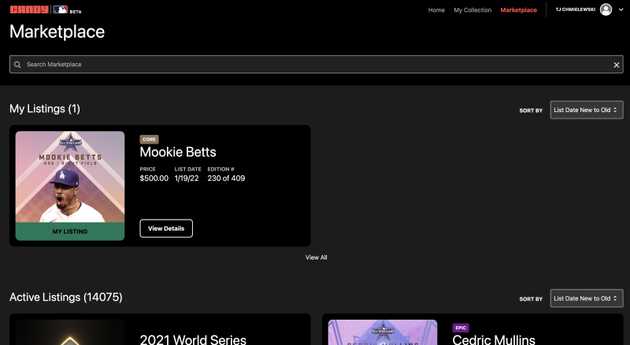 You can also place your NFTs on the marketplace for purchase. Price your NFT however you like and keep the listings up on the Marketplace as long as you like. I put a few up for grabs and found the process easy. I may have underestimated how much fans would pay for a #2 out of 30 Juan Soto Epic card. The sales went a lot better than I expected and I found myself earning money and probably could have done better if I had researched the market for a day or two. A crazy stat for Day 1 of the Candy Marketplace is that there were $1M in total sales within the first 8 hours of marketplace opening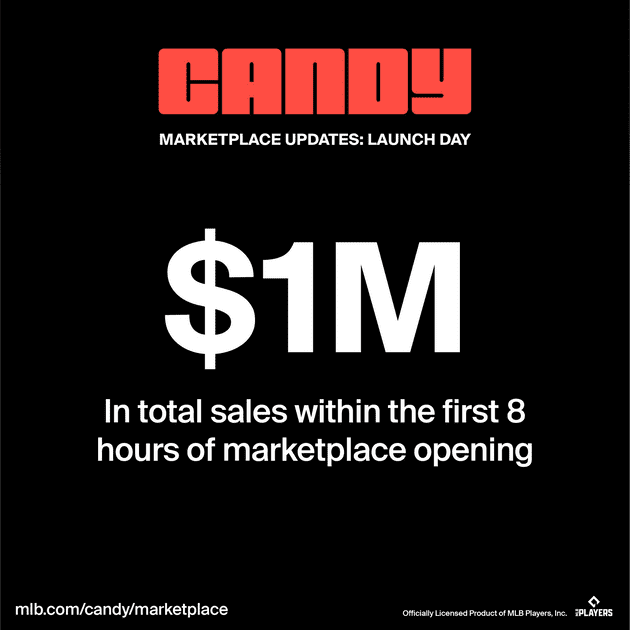 That is an insane figure.
When someone purchases your listing Candy will send you an email. Finding where your money is located can be a little confusing. Your earned money is in your profile under settings/billing. Within Billing you will see your Candy Balance and have the option to keep it on file and use it to buy other NFTs or withdraw it to your bank. One thing that tripped me up while trying to withdraw my earnings was that the routing number kept failing. It really means wire transfer routing number. Once I entered that, everything was smooth sailing.
From the purchase to pending to having the money available to me in my Candy account took about 7 days because of the use of credit cards and how bank transfers work. That would be cut down to minutes with cryptocurrencies, but that's a whole different topic on how banks work vs crypto. Then the withdrawal process to your bank is about another 7 days.
Conclusion
I've written about Candy before and how I feel they are really pioneering the digital trading card experience. The design and digital team that make the cards did a beautiful job. The user experience team and developers have made a nice interface for fans to use. I also enjoy the people on their Discord team as they are very helpful and keep the fans in the loop. Candy has also raised $100M in funding last October at a valuation of $1.5B. I expect them to expand on the NFT concepts.
As mentioned above, Crypto payments are on the roadmap next with a bridge to Ethereum and more in-stadium experiences coming down the road. I'm interested to see what they do next as well as if any other competition comes out of the woodwork. I would also like to see possible integrations with the ticketing experience as well as wallet drops and fan engagement experiences.
Year one has been exciting and the market and tech is just getting started.