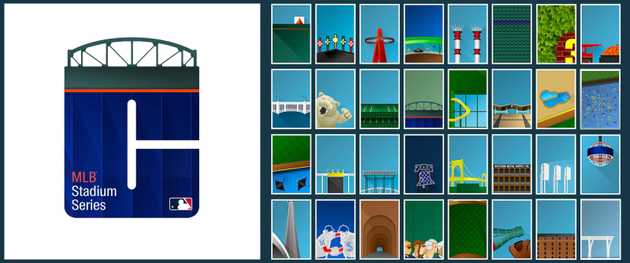 NFTs have exploded in popularity recently with folks outside of the crypto community. It's been great to see creators have a new marketplace and for buyers to actually have provable ownership of their digital art. This is only the tip of what Non-Fungible Tokens (NFTs) can do. I'm very interested to see how creators and businesses expand the utility of NFTs.
Back in May of 2021, Team Zero along with our friends at Serto created an NFT for Citizen Cope that not only demonstrated its uniqueness but unlocked tickets to a show and a never performed song. We are encouraged to see another company demonstrating these same capabilities for digital collectibles. Candy Digital has explored an unlock with its first NFT release, MLB Stadium Series.
Who is Candy Digital
Candy Digital was launched in June 2021. The majority ownership is Fanatics, a global leader in licensed sports merchandise. Candy Digital is cofounded by Fanatics CEO Michael Rubin and Galaxy Digital founder and CEO Mike Novogratz as well as investor and entrepreneur Gary Vaynerchuk. Candy Digital made a big splash partnering up with Major League Baseball right of the gate and signing a long-term deal with Major League Baseball (MLB) to produce officially licensed NFTs based on the league's assets.
Stadium Series Digital Collectible
One of the first releases for Candy Digital and Major League Baseball is the MLB Stadium Series. The NFT features a beautiful minimalist animated artwork by S.Preston, a graphic designer and illustrator. Unlike most of the NFTs recognized in the latest craze, this also shows off an NFTs utility. Not only do you have ownership of the artwork, but it unlocks additional experiences in the physical world.
For example, the Yankees announced its launch of the Yankee Stadium NFT.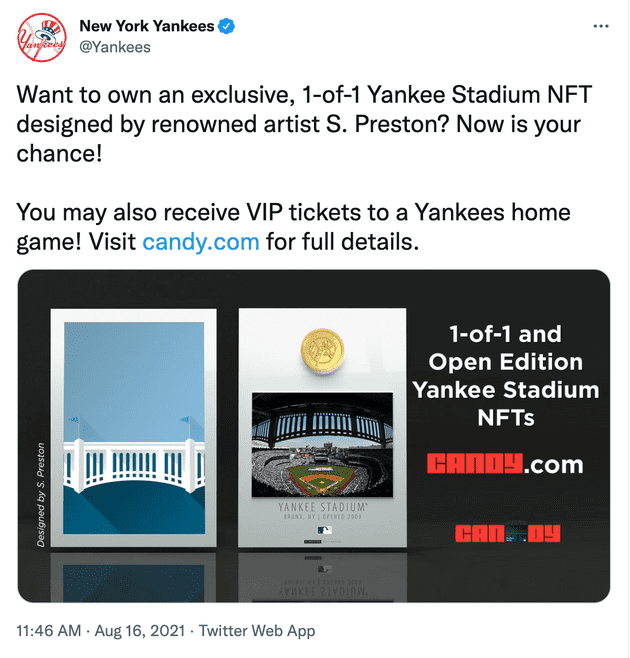 I love the artwork by S.Preston and the beautiful animation that I think will look great in any digital art collection future virtual sports room. Ownership of this NFT also gets you 4 VIP game tickets to see the Yankees. The NFT owner and their guest will get a pregame stadium tour followed by access to the field as the Yankees to take batting practice. The NFT owner also gets to throw out the first pitch of the game.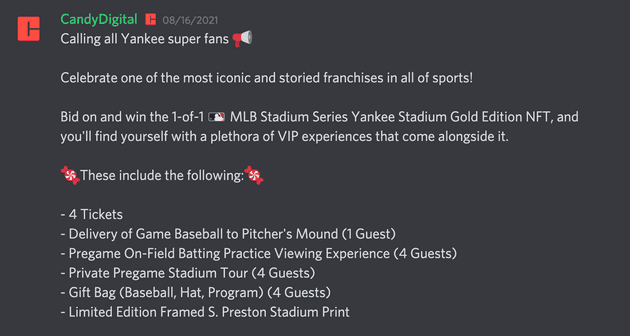 The Future
These are incredible perks and what I see as only the beginning to better collectibles, fan experiences, and team engagement with its fans. I see NFTs becoming the entry to the game, purchasing concessions, becoming digital souvenirs, and a way for teams and players to engage. I see a big market for digital promotional items that will replace some of the landfill-bound junk that is given today. I also imagine that one day a fan will be sitting enjoying a game and because they owned a specific NFT, another NFT is dropped into their digital wallet allowing them access to a private meet-and-greet with their favorite player. And that is only one small idea to paint a picture in the reader's mind. There are infinite expansions to using NFTs for a better fan experience.