You may have heard about the new trend in crypto-collectibles, profile pics (PFP) non-fungible tokens (NFT). The idea is that you can create your own personalized avatar on a blockchain and use it anywhere! PFP projects like CryptoPunks and the Bored Ape Yacht Club have made quite a buzz and have encouraged numerous graphic designers to get in on the hype. But before you get too excited, there are some things to consider. This blog post will cover what PFPs are, how they are used, and whether they're worth the time investment for your business. Team Zero has considered creating our own PFP project, and we'll walk you through some of our thinking and considerations.
What Are PFPs?
PFP stands for a "profile pic," as the name suggests; it's a picture that you use to represent yourself online. In the context of blockchain, however, PFPs are non-fungible tokens (NFTs) – meaning they are unique and cannot be replaced by another token. You own your avatar. One could still right-click on an avatar, download the image, and use it as their own avatar on any social media. However, blockchain verifies who the actual owner of the avatar is. Why is this important, you may ask? It stems primarily from verifying that you are part of a community.
Types of PFPs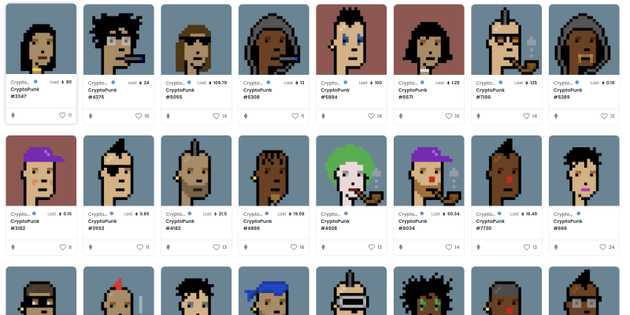 There are a few types of PFP projects and reasons for people to partake in these projects and own the NFT. One type of PFP project explores the boundaries of the technology. CryptoPunks is believed to be the first generative art project. That said, it is a historical landmark for Ethereum and NFT projects and worth owning for its originality and trendsetting.
Another type of PFP project is for the love of the artwork. Doodles is an excellent example of this from illustrator Scott Martin (AKA Burnt Toast). For Scott Martin, this is using his expertise in producing beautiful illustrations for people to use as their profile pic. For the buyer, the value is in the art. Think of it as an art lover supporting the artist. Supporting artists is not a new concept, and one could easily support an artist through platforms like Patreon. The difference with an NFT is that there is now verifiable ownership on the blockchain that the buyer owns a Scott Martin Doodle. Ownership was not possible with digital art before NFTs.
Lastly, there are PFP projects that have little to do with the artwork and are more about belonging to the community. The Bored Ape Yacht Club has done a tremendous job in this respect. On the outside, it seems utterly crazy that the floor price for an ape is currently (JAN 14, 2022) at 74.69ETH or over $240,000. And maybe it is. At the time of minting in April of 2021, buyers could purchase one for .08ETH (roughly $150 at that time). However, an ape is more than a profile pic. It's a membership card to one of the most exclusive and wildest communities on the planet. I saw this first hand at NFT NYC 2021 when the Apes took over the venue Brooklyn Steel to throw a party for its member with free drinks and appearances by The Strokes, Beck, Questlove, Aziz Ansari, Chris Rock, and Lil Baby. Only proven owners of an ape could enter the party. That's a concept most people cannot grasp at the moment because of their lack of experience with using digital wallets and the capabilities of NFTs. We did our own experiment on NFT unlocks with Citizen Cope back in April. Owning his NFT unlocked a private site for the owner that gave them 4 tickets to his upcoming show and a unique release of one of his songs.
Many other projects are experimenting with their NFTs as membership cards to their communities. One interesting example that we may see more of in 2022 is using PFP NFTs as their token into decentralized autonomous organizations, or DAOs. DAOs are a business structure where control is spread out rather than hierarchical. They are organized using smart contracts, with participants using governance tokens to vote on topics such as fund allocation. For more on the basics of DAOs, check out this Decrypt article and examples of how DAOs are being used.
Team Zero's Look Into PFPs
At the end of 2021, Team Zero was considering creating our own brand of profile pic NFT based on an illustration I had been doing since high school. These Hammies, as we were lovingly calling them, were going to be another exploration into generative art and trying out tools in the current blockchain marketplace. We had created a similar "minting platform" for artist Jonathan Rosen when he released his text-based art into the digital space. Unfortunately, minting these on the Ethereum main net was very expensive. We explored Layer 2 solutions to lower the cost while still using Ethereum main net to verify ownership. Aside from the cost, we looked into how we might make creating and buying these digital artworks more user-friendly. By trying it ourselves, we can empathize and understand what's working and what's not working. Lastly, it's just damn fun. Team Zero was having a blast thinking up looks for our Hammies and what kind of follow-ups we could have for future drops.
As we were exploring, a slew of new PFP projects had hit OpenSea. The marketplace for profile pic NFTs is now saturated. Some are legit and from people dedicated to providing value to their followers. Some are cash grabs and "rug pulls" or promises of something bigger, and then once they sell out of their NFTs, they disappear. Seeing this had me take a step back and ask myself what value I would provide to people who buy our Hammies. I am not a famous illustrator like Burnt Toast, nor do I have a clear sense of what kind of community benefits I could provide. 2021 was an NFT art boom, but with little understanding of why even use an NFT. I feel that 2022 might come with a thinning out of NFT creators and speculative investors. Thinning out the marketplace isn't necessarily a bad thing as it will hopefully remove all of the bad actors that are simply entering the space as a "get rich quick" action. Removing "pretenders" will make room for dedicated artists, developers, technologists, and enthusiasts that will be willing to put in the work to create and gain better value and a more robust ecosystem that will continue to grow.
Conclusion
In this blog post, we've discussed PFPs, the different types, how they are used, and what value a buyer gains. Lastly, we looked into what considerations Team Zero had when looking into creating its own PFP project, Hammies. For now, I think Hammies may stay on the shelf for a little while. While it's fun to create, I can't justify what value these would provide potential buyers. I believe that needs to be solidified first before minting these. We may still explore creating our own minting machine for other projects we are engaging in. After which, I can see us reevaluating Hammies. Especially as we see minting costs come down with the merge to Ethereum 2.0 or perhaps as we get more proficient with Layer 2 tech (i.e., Polygon).
What do you think? Should Hammies be created? Why or why not?